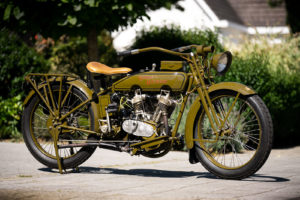 Refurbishing a 1919 Harley Davidson is not easy. For a specific part of the ignition, the owner searched half the world in vain and a 3D print eventually offered the solution. Carl van de Rijzen of Visual First switched with 4C (Creative Cad Cam Consultants) for the scan and the 3D model, and with Stratasys for the actual print with the flexible and powerful material polyamide (PA) 12.
The Harley Davidson is completely ready for its Sunday rides, although the bike would also look beautiful in a museum. This classic engine (type J) from 1919 stood still for a long time, during which it was a considerable search for replacement parts for the owner.
This type of Harley with a battery ignition system was produced in a limited edition at the time. Due to the necessary technical adjustments, certain parts of the following types deviate.
This is also the case with the Bakelite ignition timing cover, of which part of this motor cycle had broken off.
Digital repair
The manufacturing of a replica started with a digital repair for this broken part. The owner turned to local and 3D printing expert Carl van de Rijzen from the company with the appropriate name Visual First.
Carl specializes in creating 3D models, which was also the first step in the broken distribution cover. Not only did he have a digital copy of this made at 4C in Emmen, they were also able to complete the broken piece in the 3D scan.
With this 3D model, Carl then contacted partner Stratasys, who investigated which material was most suitable for the actual print. For example, material type Stratasys Nylon 12 CF turned out not to be possible due to the possible conduction of the sparks through the carbon fibers. Ultimately, a 3D print was chosen with the flexible and strong material polyamide (PA) 12 from Stratasys.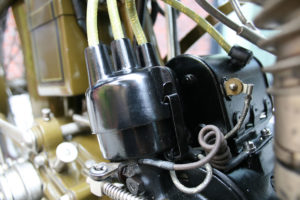 Harley 3D
After the necessary 'post-processing': making it shiny by sanding and applying the spark plug cable contacts, the part was able and thus the engine to start again in the original way. And the owner is said to be the first and only proud owner of a Harley 3D (avidson).
According to Stratasys, Visual First and 4C, this form of "reverse" engineering: turning an existing part into a digital 3D design and then producing it again with it, offers opportunities for more sectors. This was also evident in an earlier case study, in which a metal part of a packaging machine was replaced in a chocolate factory by a durable and faster-to-deliver 3D print from Stratasys. According to them, the use of 3D printing in this way offers opportunities for anyone who has to replace parts regularly to save costs and time.
More information about Visual First on www.visualfirst.nl and carl.vanderijzen@visualfirst.nl. More information about 4C on www.4cccc.nl. More information about Stratasys and PA 12 on www.stratasys.com.